Diploma Programme in Veterinary Medicine
The diploma programme in veterinary medicine provides scientific and practical training for the veterinary profession in all disciplines.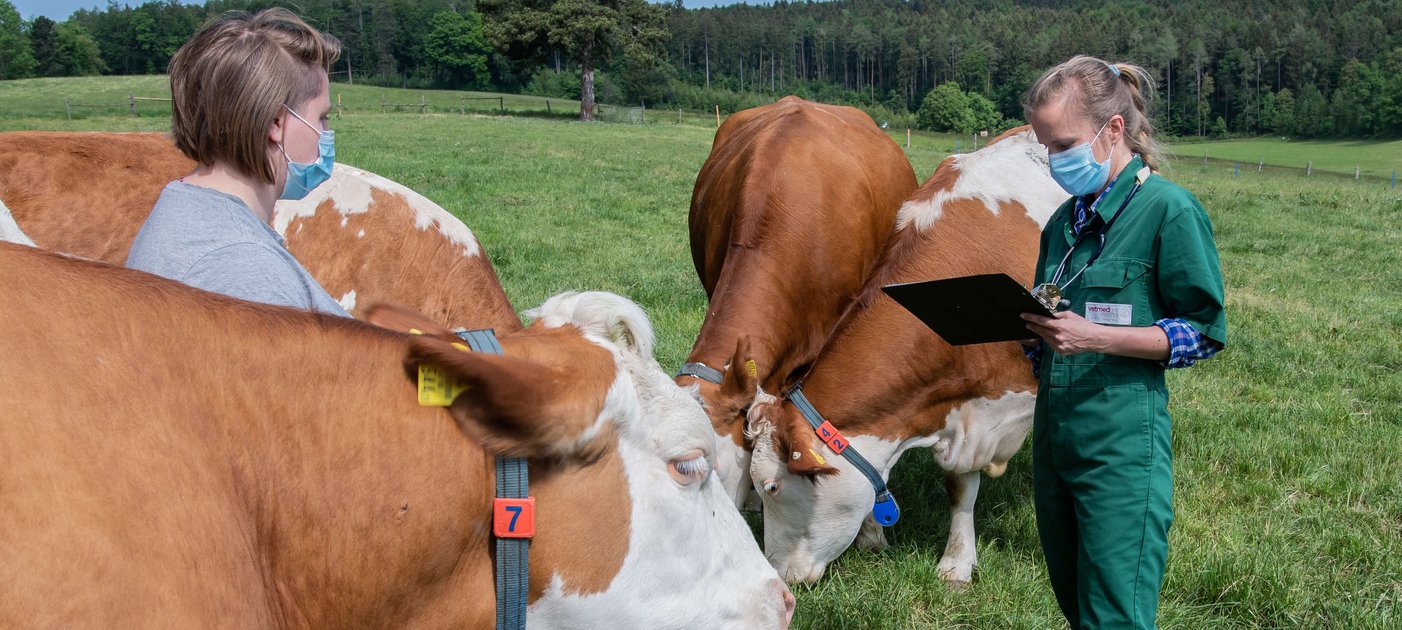 German
Language of instruction
Allocation of places
through selective admissions process each winter semester

12
semesters divided into 3 phases
223
places allocated every winter semester
Graduation requirement
Successful completion of a diploma thesis
Mag.med.vet./ Dipl.Tzt.
Academic degree
Why study Veterinary Medicine?
Many young people know from an early age that they want to become a veterinarian when they grow up. But many other professions are possible with a degree in veterinary medicine as well. Besides the delivery of veterinary care to individual animals or entire herds, graduates with a degree in veterinary medicine also work in the pharmaceutical sector, in research, and in food production and safety.
Vetmeduni therefore offers students the opportunity to choose their individual focus during their studies in order to cover the numerous aspects of veterinary medicine in the best possible way.
The programme
The aim of the Diploma Programme in Veterinary Medicine is to impart theoretical and practical knowledge of the subject matter, to practise and promote relevant psychosocial and practical skills, and to develop a basic sense of ethics necessary to fully engage in the veterinary profession. The module "Economics/Communication/Reflection/Personal and Scientific Education", which extends from the first to the twelfth semester, ensures basic training in personal, business and social skills. Students also have the opportunity to deal in-depth with specific issues within the field of veterinary medicine and to integrate themselves into the research activities of the various organisational units of the University of Veterinary Medicine Vienna.
Principles of Veterinary Medicine

Organ Structure, Morphology and Function

General Introduction

General Pathology and Pharmacology

Animal Husbandry and Animal Welfare

Electives
Practical training: 2 weeks
General Clinical Training

Advanced Introduction
Disease Aetiology, Pathogenesis, Prognosis and Prevention
Introduction to Animal Diseases, Basic Pharmacology
Outpatient Clinic – students work under supervision
Veterinary Public Health
Endocrinology and Reproduction
Clinical Rotation I (14 weeks)

Electives
Practical training: 10 weeks
Specialisation

Advanced Training

Medical Biometry and Epidemiology

Veterinary Public Health and Veterinary Forensics

Statistics and Probability for Veterinary and Animal Science

Electives
Practical training: 10 weeks specialisation module and 4 weeks at slaughterhouse
Diploma thesis
Science in Veterinary Medicine
Ethics in Veterinary Medicine
Economics in Veterinary Medicine
Communication/Reflection with Animal Patients, Owners and Stakeholders
EU GDPR
Animal Experiment Legislation
The focus of Phase 3 is on providing students with specialised clinical training. The diploma thesis must be submitted during this phase of study or before. The specialisation training aims to provide students with in-depth preparation for their practical work in the chosen subfield of veterinary medicine. Students can choose from the following modules:
Food Science, Veterinary Public Health
All links in the food production chain (from feed production, breeding and animal husbandry to the consumer)
Ruminant Medicine
Clinical, diagnostic and manual skills for individual animal medicine and herd health management, farm visits
Pig and Poultry Medicine
Clinical, diagnostic and manual skills for pig and poultry medicine and herd and flock health management
Reproductive Biotechnologies
Animal production, breeding hygiene, reproductive problems, genetic manipulation, genome conservation
Equine Medicine
Clinical, diagnostic, manual and therapeutic skills in all areas of horse medicine
Small Animal Medicine
Clinical, diagnostic, manual and therapeutic skills in all areas of small animal medicine
Conservation Medicine (Zoo and Wildlife Medicine)
Interaction of different environmental conditions on human and wildlife health, zoo/wildlife medicine, conservation medicine, nature conservation and species conservation
Laboratory Animal Medicine
Specialisation in the breeding, housing and care of laboratory animals, appropriate animal experiment designs and alternatives to animal experimentation
Graduates of the Diploma Programme in Veterinary Medicine primarily pursue careers in the following fields:
Veterinary treatment and care
Herd and flock health management
Food production and food safety
Private or public health services
Pharmaceutical, biotechnology or other industrial companies
Public administration
Feed production and feed safety
Universities, research institutes or other research/education facilities
Animal welfare / environmental protection